Beginners Photography Weekend
Relaxing Photography Weekend for Beginners in Dunquin
4 day workshop based at An Portan, Dunquin, Co Kerry, Ireland TBA 2019
Beginners Photography Weekend
TBA 2019
Includes 3 nights, with room, breakfast and three course evening meal, all tuition and transport between An Portan Guest House in Dunquin and photography locations.
Learn how to use your camera to its full potential during a photography weekend, held in a relaxing holiday atmosphere on the Dingle Peninsula. Starting at the very beginning we'll cover the basics and move along, session by session and day by day, right up to the end of the final session on Sunday when you're fully comfortable away from your automatic camera settings and making your own decisions about your photography. With ongoing group, 1 to 1 sessions and demonstrations, held at a variety of amazing locations around the Dingle Peninsula, you'll experience a wide range of interesting subjects and stunning views. Where possible, we always travel from location to location along the smaller backroads and tracks, experiencing a completely different outlook on the area and visiting many wonderful places that are to be found, well away from the main tourist routes.
Maximum of 4 participants with group and 1 to 1 sessions
Learn how to use your camera during a relaxing weekend
Explore the Dingle Peninsula and visit exciting locations
Discover your camera's functions and controls with lots of practical hands on demonstrations and experiments
Aperture, shutter speed and exposure, what they are and their relationship to one another
Using different lenses and different focal lengths
Focusing – getting everything sharp or isolating your subject by blurring everything else
Getting the correct exposure outdoors with natural light
Light and composition – begin to express your creative side
Crop factor, ISO, noise, white balance and histograms
Long exposures, tripods and cable releases
Filters and bracketing, the advantages of using camera RAW
Sunrise and sunset expeditions to different locations every day
Photo editing, cropping and saving images for printing, internet or social media
Weather permitting a typical day will begin with a dawn and sunrise shoot. Following breakfast, we'll head out to explore different areas around the Dingle Peninsula each day, visiting a varied range of subjects and locations with ongoing demonstrations and practical hands-on tuition to improve your photography. Around mid-day, we'll stop for a break and a snack, in Dingle or any other of the towns or villages, close to our location before continuing the session through the afternoon and towards early evening. We'll take a break for dinner in Dingle before heading out again for the evening to a stretch of rocky coastline or a sandy beach to watch the sun go down and hopefully catch a spectacular sunset to finish the day. If weather conditions are against us at any time we'll still explore the Dingle Peninsula but we may stay closer to the minibus for shelter or even spend some time indoors going over photography techniques or editing, cropping and saving our images.
To really get the most out of this workshop a camera with the option of controlling the aperture and shutter speed setting is necessary. If you're not sure about your camera, please contact us with the make and model and we can advise you of its suitability for this weekend. Alternatively, we do have a few Canon DSLRs that can be hired for the duration of the workshop. All the topics and subjects we'll cover during this photography weekend are also outlined in Dingle Darkroom's Beginners Photography workshops Part 1 & Part 2, though we'll have much more time to cover everything thoroughly during group and 1 to 1 learning. In addition, we'll have regular sessions looking over the images we're taking and discussing how we can improve on them, either out on location or later on, using straightforward editing and cropping.
We may take a couple of gentle walks each day to visit and explore some of the locations more thoroughly, the total distance we'll ramble is no more than 1 mile for each location and requires a moderate level of fitness and occasionally the ability to climb stiles and traverse gentle slopes. For the most part, almost all the locations we visit are accessed easily with a drive and a short walk. During the sunrise, sunset and photography tours on the Dingle Peninsula, all the locations we visit are easily accessible with a short walk using paths, tracks or reasonably level ground from where we park.
The Dingle Peninsula has a varied geology and an absolute wealth of accessible ancient heritage. During this weekend, we'll visit glacial lochs, valleys, woods, forests, sandy and rocky coastline, cliffs, wide open vistas, hill passes, waterfalls, rivers, castles, ancient churches and standing stones and many other antiquities that are dotted all over the landscape of this rural area. The area is also famous for the location of the David Lean film "Ryan's Daughter", which put the Dingle Peninsula firmly on the map during the late 1960's and more recently the filming of Star Wars on Sybil Head and Dunmore Head during 2016.
Location: An Portan, Dunquin, Co. Kerry, Ireland.   Dates: TBA 2019

Learn more about An Portan Guest House
Includes room, breakfast and dinner for 3 nights, photography tuition and transport between photography locations.

Discount available for 2 persons sharing a room and non-participating sharers are also welcome, please use the contact form below for details, or indeed, if you have any other enquiries.
This photography holiday is also available for small groups, based at An Portan Guest House throughout their season, which runs from April to September.  Please contact us using the form below for availability and pricing.

Travelling to Dingle and Dunquin
I'm Interested in the beginners photography weekend in Dunquin!


Friday, November 2nd, 2018 at 7:33am
Dingle awoke to this fabulous red sky at dawn over Killarney and The MacGillycuddy's Reeks this morning. On that note it's time to tie everything down in the garden as it's looking to become wet and windy today!
@DinglePeninsula @gokerry2018 @wildatlanticway @KerryYourNatEsc https://t.co/ykWs0em05G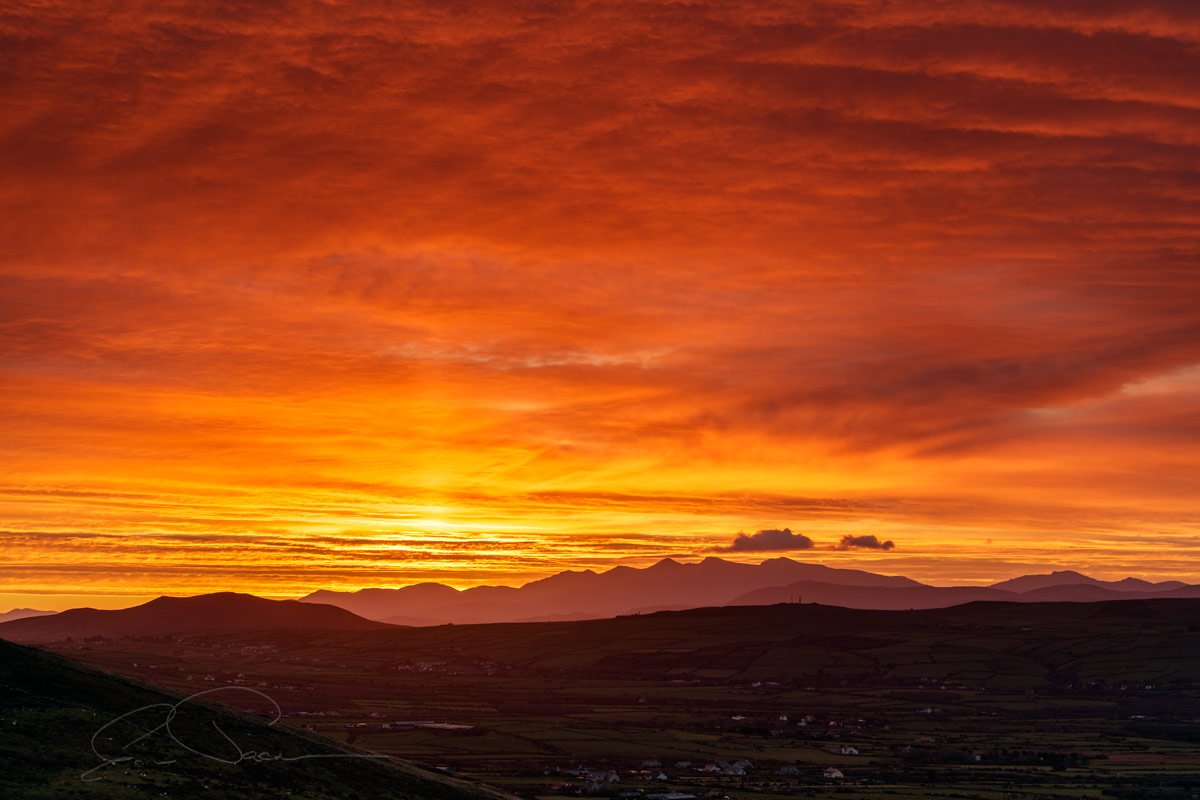 Bookings:
083 830 1788
+353 83 830 1788
info@dingledarkroom.com
Bookings:
083 830 1788
+353 83 830 1788
info@dingledarkroom.com
Please contact us if you have any questions!


Friday, November 2nd, 2018 at 7:33am
Dingle awoke to this fabulous red sky at dawn over Killarney and The MacGillycuddy's Reeks this morning. On that note it's time to tie everything down in the garden as it's looking to become wet and windy today!
@DinglePeninsula @gokerry2018 @wildatlanticway @KerryYourNatEsc https://t.co/ykWs0em05G