Autumn, Winter and Spring Photography Tours on the Dingle Peninsula
Duration: 9.00 a,m, to dusk €65 per person 5 places
Autumn, Winter and Spring Photography Tours on the Dingle Peninsula
Winter Light Day Tour
Duration: 9.00 a.m. to dusk €65 per person 5 places
This tour is available from November to March for 2 – 5 participants
From Autumn to Spring the evening sun sets into the Atlantic Ocean behind the Blasket Islands, opening up a number of superb locations along the western edge of the Dingle Peninsula for dramatic evening and sunset photography.
This tour begins at 9.00 a.m. in Dingle to allow participants a relaxing morning without the early start!  If you would like to include a dawn and sunrise experience please see our First Light Last Light tour.
We leave Dingle and begin our tour, visiting locations around the west side of the Dingle Peninsula. Even the shortest days of the year mean we'll be touring or on locations for 6 or 7 hours although breaks will be shorter than they are in the autumn and spring.  Where's any chill in the air or bite in the wind we'll always take more regular short breaks indoors to warm up between locations. As I live locally I'm well aware of all the handy places for snacks, tea, coffee and facilities even in the depths of winter!
Following a break around mid-day for lunch, we'll begin exploring some promising locations for the magic hours and perhaps be lucky and end the day with a sunset over the Blasket Islands.  For the evening hours, participants are more than welcome to choose their own specific location if they wish, and be dropped off and collected, as there are a handful of excellent spots around the Dunquin and Coumeenoole areas that are within a couple of minutes' drive of each other.
All locations on this tour are extremely easy to access from the minibus, one or two locations can require a moderate level of fitness and agility to explore them further, but they can all be photographed from our initial vantage point. Please contact us if you're interested in accessing some of the more challenging locations around the peninsula and taking your own private custom tour.
While advice, hints and tips about settings, exposure, composition and filters are readily available on this tour, if you do want to learn to be more creative with your camera and its settings, why not take your own individual or small private group, beginners or landscape photography workshop on the day before, or following the tour.
This tour and all our other tours and workshops are available on a daily basis throughout the winter and spring for individuals and small private groups.
The tour begins in Dingle around 9.00 a.m. and returns after dusk.  You're more than welcome to bring packed lunch and a drink with you although there will be plenty of opportunities to get drinks, sandwiches and snacks and access facilities during the day.
If the weather's forecast to be very poor on the above date, the tour will be arranged to the nearest fair day, if you can't participate on  an alternative day a full refund of any deposit or payment towards the tour will be made.
This tour is also available at any time as an individual adventure, please visit our Custom page for further information.
Please check the Information page for everything else.
I'm Interested in the Winter Light Day Photography Tour!


Sunday, July 22nd, 2018 at 9:33am
Due to poor weather expected on the Wednesday this tour is now running on Tuesday 24th July! 😀 https://t.co/rv6qLlWczc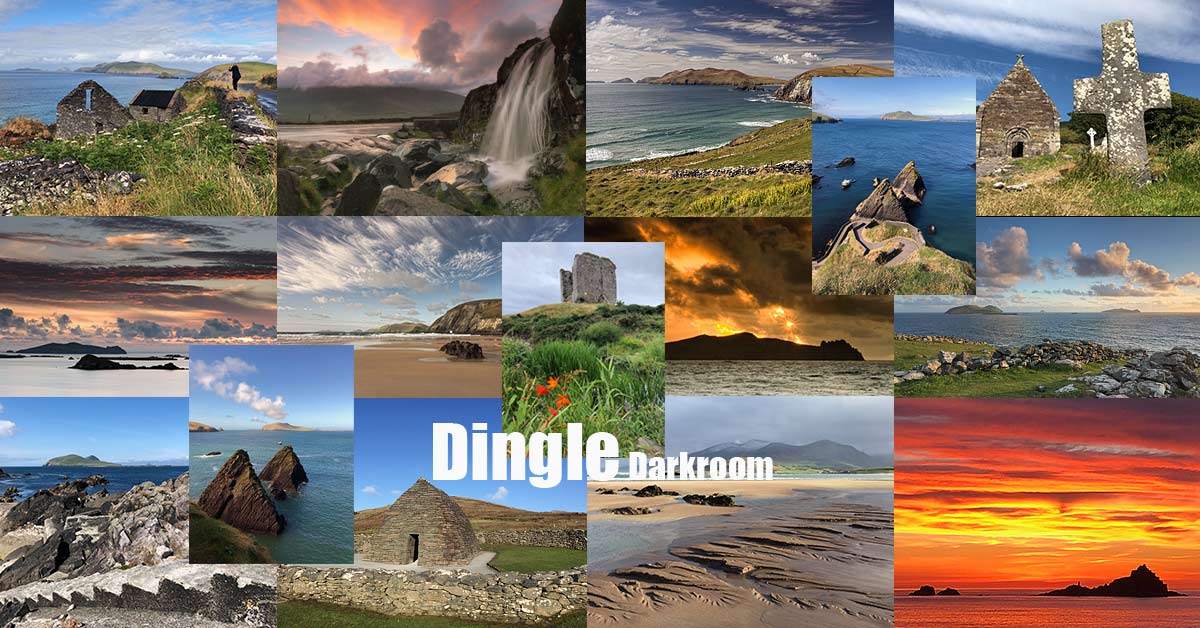 Bookings:
083 830 1788
+353 83 830 1788
info@dingledarkroom.com
Bookings:
083 830 1788
+353 83 830 1788
info@dingledarkroom.com
Please contact us if you have any questions!


Sunday, July 22nd, 2018 at 9:33am
Due to poor weather expected on the Wednesday this tour is now running on Tuesday 24th July! 😀 https://t.co/rv6qLlWczc