Autumn Photography Holiday in Dunquin
Improve your Photography on Holiday during September 2019
5 Nights at An Portan Guest House, Dunquin, Kerry, Ireland. Tuesday  – Sunday  September 2019
September Photography Holiday in Dunquin
5 Nights at An Portan Guest House, Dunquin, Kerry, Ireland. TBA September 2019
 Includes 5 nights, with room, breakfast and three course evening meal, all tuition and transport between An Portan in Dunquin and photography locations & ferry to the Great Blasket Island.
Join us for 6 days of photography in September 2019, based in Dunquin at An Portan Guest House, Co Kerry, Ireland, near to the most westerly point of Ireland at Dunmore Head.  Explore the Great Blasket Island and the beaches, cliffs, hillsides and remote valleys of West Kerry with your camera, led by George Jackson, a photographer with an intimate knowledge of the Dingle Peninsula.  Experience group and 1 on 1 photography sessions and learn to use your camera, phone or device to its full capability.  Improve your composition, use natural light to its full advantage, all the while practicing and improving your photography at the wide variety of locations and interesting subjects that we visit around Kerry.
Maximum of 5 participants with group and 1 on 1 sessions
Ideal for any level of interest, ability and experience of photography
Improve your photography with any camera, device or phone
Unlock your creative potential at wonderful locations
Discover seldom visited locations around the Dingle Peninsula and Kerry with fantastic views
Day trip to the Great Blasket Island included
Visit the sites used in the "Ryan's Daughter" film that made the area famous
Visit castles, ancient churches and standing stones
Fabulous beaches, rugged coastline, cliff walks, with spectacular views
Gentle walks on hillsides and along remote and picturesque valley floors
Sunrise and sunset expeditions to different locations every day
Photo editing, cropping and saving images for printing, internet or social media
On a favourable day we'll take the ferry to the Great Blasket Island and visit the ruins of the old village, take a walk on White Strand and explore the near end of the island. During the other days, we'll visit many antiquities, castles, ancient Churches and standing stones, we'll take short walks into the hills for outstanding views, tour around the Dingle Peninsula and Kerry following backroads and tracks, visiting secluded lochs, forests, and beaches that are found away from the main roads. Experience sunrise and sunset expeditions to different locations every day. Take your photography as far as you want with group sessions and lots of 1 to 1 learning or just enjoy the tours and walks, snapping away at the stimulating and varying subjects and amazing vistas. Improve your images using simple post processing techniques with freely available software and save them for printing, internet or social media.
Weather permitting a typical day will begin with a dawn and sunrise shoot. Following breakfast at An Portan, we'll head out to explore a different part of the Dingle Peninsula each day, visiting a varied range of subjects and locations with ongoing demonstrations and practical hands-on tuition to improve your photography. Around mid-day, we'll stop for a break and a snack, in Dingle or any other of the towns or villages, close to our location before continuing the session through the afternoon and returning for dinner in the early evening at An Portan Guest House. Then it's out to a stretch of rocky coastline or a sandy beach to watch the sun go down and hopefully a catch spectacular sunset to finish the day.  We'll also take a day trip to explore the Killarney National Park and the eastern edge of the Iveragh Peninsula. If weather conditions are against us at any time we'll still explore but we may stay closer to the minibus for shelter or even spend some time at the guest house going over photography techniques or post processing, editing, cropping and saving our images.
All the topics and subjects that we'll cover during the photography holiday are for the most part, outlined in Dingle Darkroom's Beginners Photography Parts 1 & 2 and the Landscape Photography workshop, though we'll have much more time to cover everything thoroughly during group and 1 to 1 learning. In addition, we'll have regular sessions looking over the images we are taking and discussing how we can improve on them, either out on location or later on, using straightforward post processing, editing and cropping. As a participant, you're welcome to join in with all the group activities and sessions as much as you want, although at the same time you're free to skip any session or activity if you'd rather do your own thing or even if you prefer a touch more sleep in the morning!
Location: An Portan, Dunquin, Co. Kerry, Ireland.  TBA Tuesday  – Sunday  September 2019

Includes room, breakfast and dinner for 5 nights, photography tuition and transport between photography locations & return ferry to the Great Blasket Island.
Learn more about An Portan Guest House
Discount available for 2 persons sharing a room and non-participating sharers are also welcome, please use the contact form below for details, or indeed, if you have any other enquiries.
Travelling to Dingle and Dunquin
I'm Interested in the Autumn photography holiday in Dunquin!


Friday, November 2nd, 2018 at 7:33am
Dingle awoke to this fabulous red sky at dawn over Killarney and The MacGillycuddy's Reeks this morning. On that note it's time to tie everything down in the garden as it's looking to become wet and windy today!
@DinglePeninsula @gokerry2018 @wildatlanticway @KerryYourNatEsc https://t.co/ykWs0em05G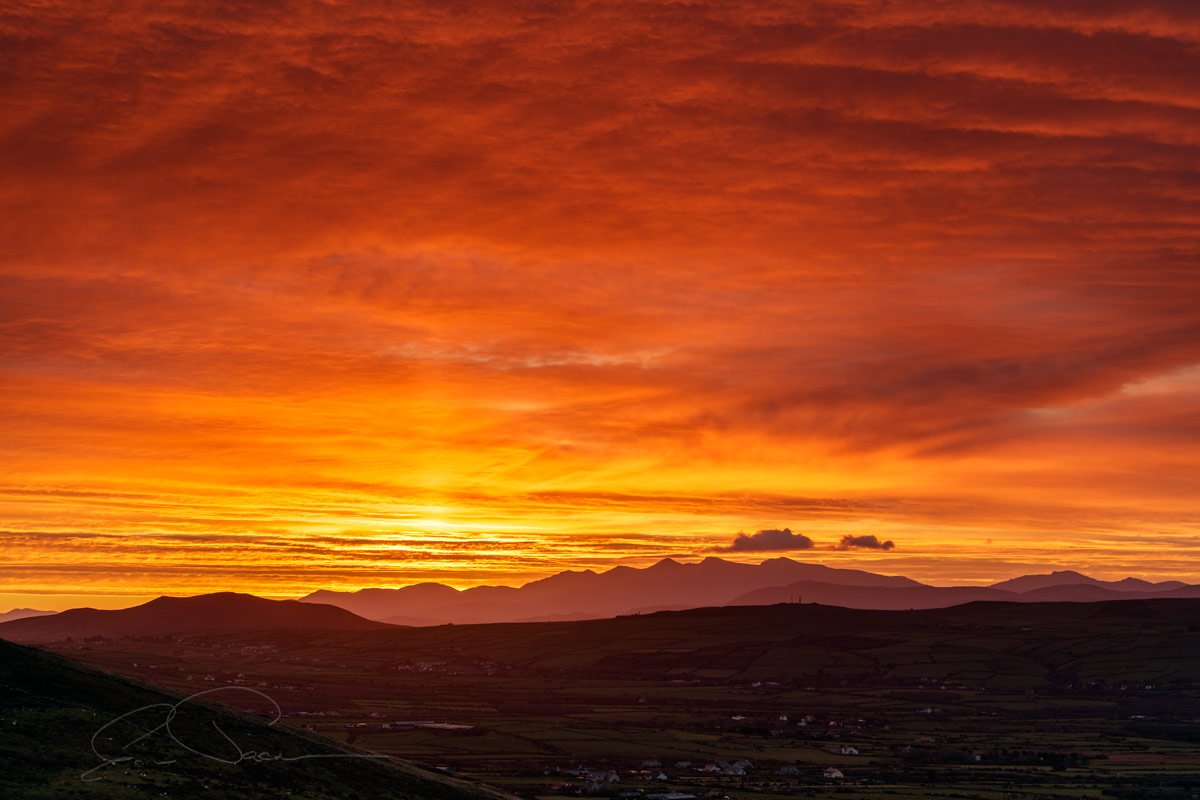 Bookings:
083 830 1788
+353 83 830 1788
info@dingledarkroom.com
Bookings:
083 830 1788
+353 83 830 1788
info@dingledarkroom.com
Please contact us if you have any questions!


Friday, November 2nd, 2018 at 7:33am
Dingle awoke to this fabulous red sky at dawn over Killarney and The MacGillycuddy's Reeks this morning. On that note it's time to tie everything down in the garden as it's looking to become wet and windy today!
@DinglePeninsula @gokerry2018 @wildatlanticway @KerryYourNatEsc https://t.co/ykWs0em05G