Black & White Film and Darkroom Weekend
Traditional Black & White Darkroom Photography
3 Nights at An Portan Guest House, Dunquin, Kerry, Ireland.
Traditional Black & White Darkroom Photography Weekend in Dunquin
3 Nights in Dunquin, Kerry, Ireland. Available April to September 2018
Includes Room, Breakfast and Evening Meals
Experience 4 days of traditional black and white film and darkroom photography during 2018, based in Dunquin, Co Kerry, Ireland, surrounded by the amazing scenery of the Dingle Peninsula, led by George Jackson, a photographer who has worked in film and darkroom since the mid 1990's. This weekend provides a basic introduction to film and darkroom for any level of experience and knowledge in which you'll learn how to use a film camera, develop your film and print photographs from your negatives in the darkroom. Everything you require for the weekend is included and every participant is given a Minolta 35mm manual camera with lens and films to work with during the course and there's a ready supply of filters, tripods and other accessories.
Traditional darkroom black and white photography
Ideal for any level of interest, ability and experience
Improve your photography at any level with group sessions and 1 on 1 learning
Metering, exposure and composition techniques
Develop and process your own film by hand
Print and take home your own B&W photographs
Unlock your creative potential at wonderful locations
Sunrise and sunset photography sessions
Visit fabulous beaches, rugged coastline, castles and antiquities
Small group size with collective and 1 on 1 sessions
All locations easily accessible from the minibus with no strenuous walking or climbing
This photography holiday is available as a custom activity for small groups and runs from a Thursday when we meet in the afternoon at An Portan Guest House in Dunquin and finishes on the following Sunday during the afternoon.
During our first outdoor sessions at spectacular locations around the Dingle Peninsula, we'll start at the very beginning with the film camera controls and learn how to use the aperture, shutter and meter to obtain a correct exposure. After shooting our first film we'll move indoors to the darkroom and get familiar with the processing equipment and procedures before practicing the film loading process and then doing it for real.
We'll load some more film in the cameras and begin to look at how composition, natural light and shadow come together in black and white photography and how to use them to full effect. We'll use a variety of filters to control exposure and enhance contrast and learn about the characteristics of film and experiment with some long exposures. Mid way through the weekend we'll commence printing sessions in the darkroom and this is when we really start to see the magic of black and white darkroom photography happening.
Weather permitting a typical day will begin with an optional dawn and sunrise shoot. Following breakfast at An Portan, we'll be progressing with the black and white photography either out on location or in the darkroom. Around mid-day, we'll stop for a break and a snack, in Dingle or any other of the towns or villages close to hand, before continuing the session through the afternoon. Following dinner in the early evening we'll usually head to the coastline to take in the evening light and hopefully catch a sunset and do some low light photography to end the day. While we are working in the darkroom we won't spend as much time outside as we usually do on our other holidays and workshops but we'll still make the most of the early morning and evening light as photographers, taking full advantage of the superb surroundings of the Dingle Peninsula.
Location: An Portan, Dunquin, Co. Kerry, Ireland.   Available as a custom activity for small groups from April to September 2018

Learn more about An Portan Guest House
Includes room, breakfast and dinner for 3 nights, photography tuition, film, paper, chemicals and transport between photography locations
Non-participating sharers are welcome, please use the contact form below for details, or indeed if you have any other enquiries.
Please contact us for availability and pricing.
Travelling to Dingle and Dunquin
I'm Interested in the Black & White weekend in Dunquin!


Friday, November 2nd, 2018 at 7:33am
Dingle awoke to this fabulous red sky at dawn over Killarney and The MacGillycuddy's Reeks this morning. On that note it's time to tie everything down in the garden as it's looking to become wet and windy today!
@DinglePeninsula @gokerry2018 @wildatlanticway @KerryYourNatEsc https://t.co/ykWs0em05G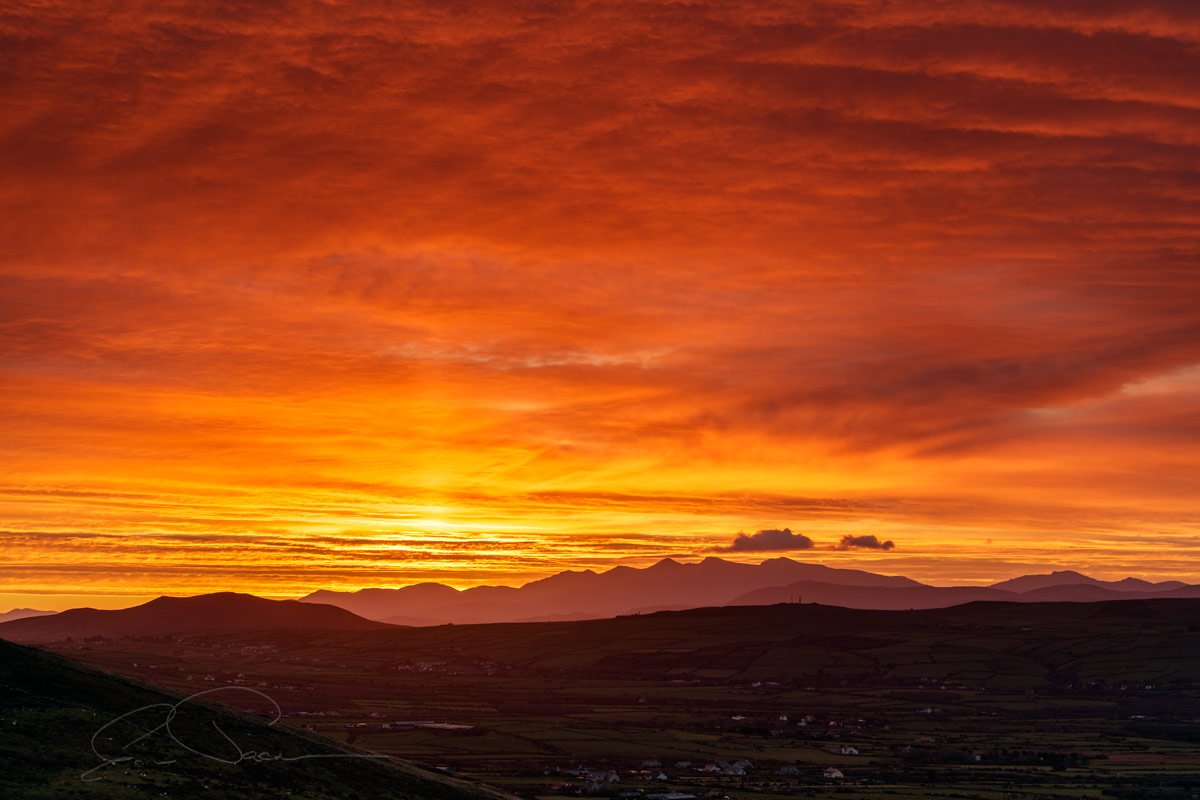 Bookings:
083 830 1788
+353 83 830 1788
info@dingledarkroom.com
Bookings:
083 830 1788
+353 83 830 1788
info@dingledarkroom.com
Please contact us if you have any questions!


Friday, November 2nd, 2018 at 7:33am
Dingle awoke to this fabulous red sky at dawn over Killarney and The MacGillycuddy's Reeks this morning. On that note it's time to tie everything down in the garden as it's looking to become wet and windy today!
@DinglePeninsula @gokerry2018 @wildatlanticway @KerryYourNatEsc https://t.co/ykWs0em05G