Beginners Photography Part 1
Beginning to see the Light
Individual and small private group workshops, designed and planned especially for you.
Duration 6-7 hrs €75 Starting from €37 per person when you take advantage of our excellent group rates
Beginners Photography Part 1
"Beginning to see the light" Duration 6-7 hrs €75
Starting from €37 per person when you take advantage of our excellent group rates
A leisurely and easy going introduction to your camera and lens, during which we visit a number of interesting and stimulating locations on the outstandingly scenic Dingle Peninsula. We start at the very beginning, exploring the basic functions of your cameras and lenses with practical hands on demonstrations of the basic controls. By the end of the day you will switch your camera completely away from the auto exposure settings with confidence and begin to make your own creative choices about how you want your photographs to emerge.
Discover your camera's basic functions and controls with lots of practical hands on demonstrations and experiments
Aperture, shutter speed and exposure, what they are and their relationship to one another
The different types of lenses and what they do
Focusing – getting everything sharp or isolating your subject by blurring everything else
Getting the correct exposure outdoors with natural light
Light and composition – begin to express your creative side
Try out your newly acquired knowledge on location with the wonderful scenery of the Dingle Peninsula
Transferring and storing your images to other devices and post process discussion
We finish the session with a look through our photographs and recap what we've achieved during the workshop
If you're a beginner or you want to get your knowledge of photography off to a flying start and begin getting the most from your camera this is a great introductory session.
You choose the size of your group, from 1 to a maximum of 7
All locations easily accessible from the minibus with no strenuous walking or climbing
What you need to bring:
Camera that has the option of full manual settings and controls – preferably a digital SLR or Mirrorless so we can look at the results of our experiments and learn as we go.
Don't forget to bring an instruction manual for your camera.
There are a few Canon DSLRs and lenses which can be hired for the duration of the session.
Check the Workshop Information page for everything else.
If you're already comfortable with your basics why not take our Beginners Part 2 workshop!
I'm Interested in the Beginners Part 1 Photography Workshop!


Friday, February 9th, 2018 at 11:04am
Join us for a relaxing photography holiday in Dunquin, on the Dingle Peninsula, Co. Kerry over Easter! @DinglePeninsula @KerryYourNatEsc @KerryCoArts https://t.co/qjm1YURmPG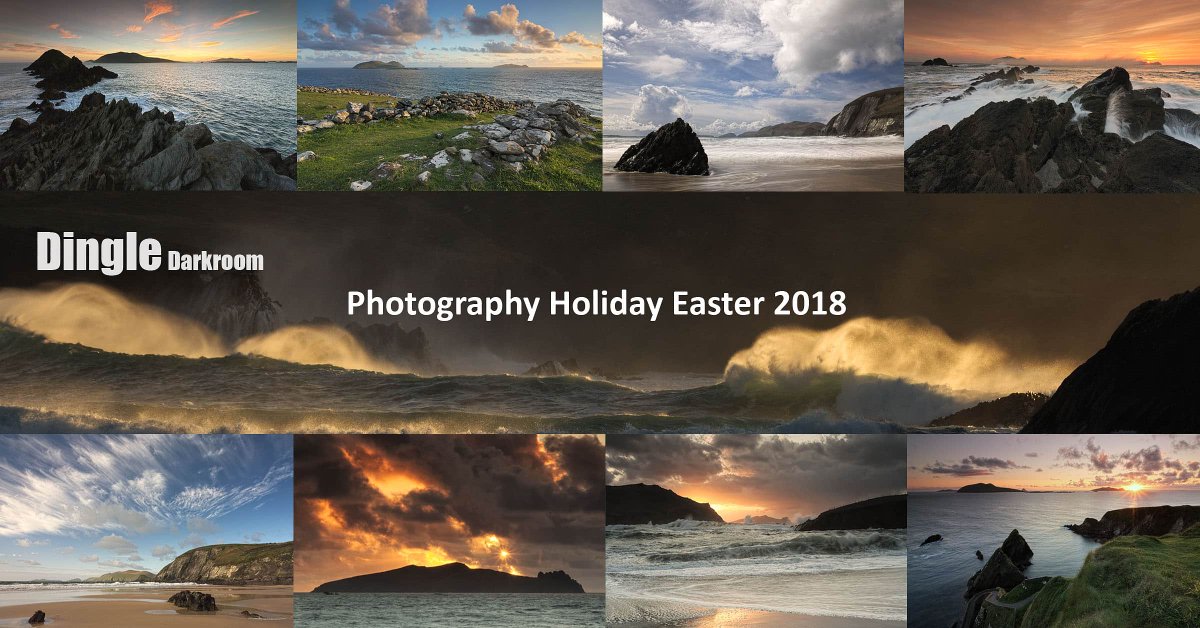 Bookings:
083 830 1788
+353 83 830 1788
info@dingledarkroom.com
Bookings:
083 830 1788
+353 83 830 1788
info@dingledarkroom.com
Please contact us if you have any questions!


Friday, February 9th, 2018 at 11:04am
Join us for a relaxing photography holiday in Dunquin, on the Dingle Peninsula, Co. Kerry over Easter! @DinglePeninsula @KerryYourNatEsc @KerryCoArts https://t.co/qjm1YURmPG